Cable Glands
E1W / F Glands:
• For use in dry indoor situations.
• Supplied with lock nut, earth tag and shroud and priced singly.
• For plastic insulated, single wire armored, plastic over sheathed cables.
• Low cost two part design.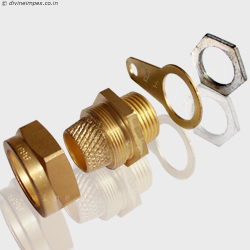 click to enlarge
BW Glands are made from BS 2874 BRASS material.
BW Glands finishing is either Natural Brass or any plating as per customers requirements.
← back to previous page